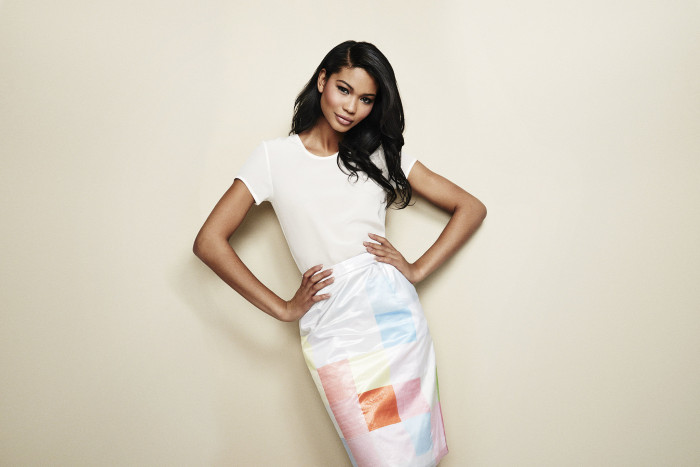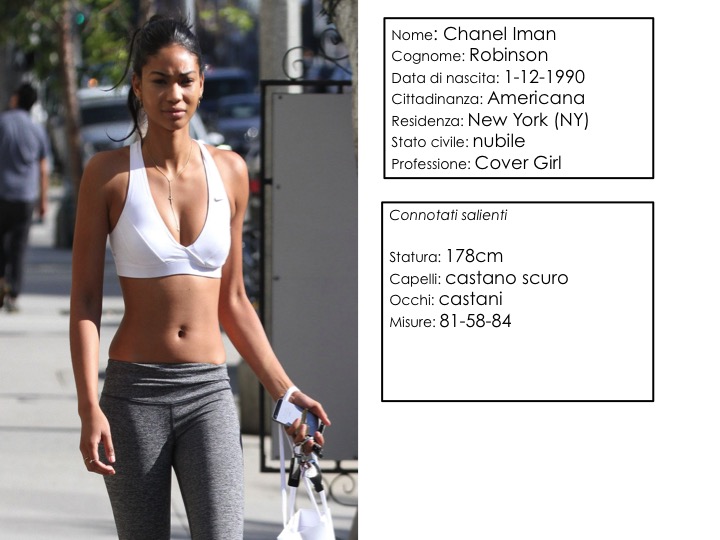 Chanel Iman Robinson è la tipica ragazza figlia della globalizzazione. Nata ad Atlanta da una madre di origini coreane ed un padre afro-americano è cresciuta nell'assolata Culver City in California.
La sua bellezza, così moderna e multirazziale, le ha permesso di farsi largo nel mondo della moda.
Debutta infatti giovanissima nel 2006, quando a soli sedici anni, dopo essere giunta terza al concorso organizzato dalla Ford Model's, sfila per Custo Barcelona e DKNY.
Sempre nel 2006 le sfilate di Anna Sui, Marc Jacobs e Proenza Schouler a New York daranno il definitivo là alla sua carriera, facendo sppunto da apripista per i grande scenario europeo.
Hermes, Jean Paul Gaultier, Valentino e Bottega Veneta, sono solo alcune delle maison che scelgono di puntare sulla sua sofisticata avvenenza.Consacrata da Anna Wintour che punta su di lei per la cover di Vogue America, diventa il volto di punta di diverse campagne, su tutte ricordo quella internazionale per Benetton.
Nel triennio 2009-2012 entra a pieno diritto nel gota degli angeli Victoria's Secret, non solo sfilando durante i fashion show, ma diventando il volto di numerose campagne.
Io, parafrasando Oscar Wilde, trovo la bellezza di Chanel Iman quasi geniale. Geniale perché non necessita di spiegazioni.
p.s. vi propongo un giochino, vediamo se la riconoscete nel video di Beyoncè…
Chanel Iman Robinson is the typical daughter of globalization. Born in Atlanta from a Korean mother and a African-American father, was raised in the sunny Culver City in California. Her beauty, so modern and multiracial, allowed her to find her way in the fashion world.
She debuts in 2006, at the young age of 16, after getting the third place in the Ford's Model contest, modeling for Custo Barcelona and DKNY. 2006 is also the year of the runway shows for Anna Sui, Marc Jacobs and Proenza Schouler in New York that kick off her career, working as a forerunner for the European scenario. Hermes, Jean paul Gautier, Valentino and Bottega Veneta, these are just some of the many maisons that choose to bet on her sophisticated charm. Consecrated by Anna Wintour that chooses her for the Vogue America's cover, she becomes the main face of many campaigns, like the unforgettable and international one for Benetton. In the 2009-2012 period she officially enters the team of the Victoria's Secret angels, modeling not only during the runway shows but also becoming the main face of the ad. campaigns. Freely quoting Oscar Wilde, I find her beauty almost brilliant. Brilliant because it doesn't need any explanation.
with love, Elena
p.s. here's a little game, let's see if you can find her in Beyoncè's videoclip…
with love, Elena
with love, Elena
---
---