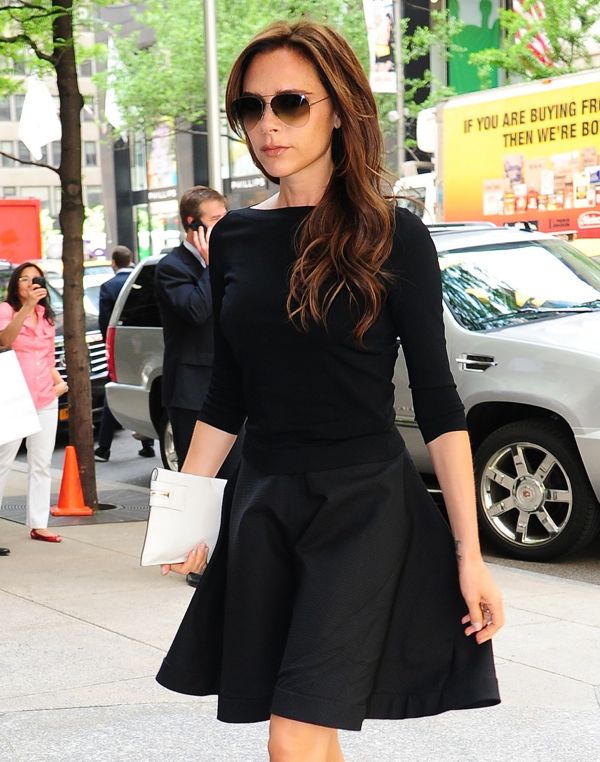 Da "Posh-Spice" a icona di stile, quanta strada ha fatto la piccola Victoria Adams da quando ha lasciato la natia contea di Essex.
Affermatasi a livello mondiale nel 1994, anno del debutto delle mitiche Spice Girls, oggi la quarantenne Victoria, diventata la signora Beckham, è un'affermata stilista.
Regina del Gossip vive la sua vita come un reality, trasformando in business ogni evento della sua "fashion family" formato azienda. Viso sempre imbronciato e occhialoni scuri che ne celano sguardo, sono l'emblema del suo stile sobrio e minimal che si traduce in studiati look apparentemente simili che segnano il suo filiforme fisico.
Testimonial ricercata da tutti i più grandi brand, Victoria dopo aver lanciato con successo una collezione di jeans firmati VB Rocks, si è affermata come stilista aprendo la maison che porta il suo nome, Victoria Beckham.
Incensata nientepopodimeno che da Anna Wintour , Victoria è riuscita a conquistare NY e a ritagliarsi un ruolo di primo piano nel fashion system.
From "Posh-spice" to style icon, such a long road the one walked by Victoria Adams ever since she left her birth shire, the Essex. Became famous all over the world in 1994, the year of the debut with the mythical spice girls, today the fourty-year-old Victoria, become lady Beckham, is a successful stylist. Gossip's queen, she lives her life just like in a reality show, transforming into business every event of her "fashion family". That always grumpy face and the big dark sunglasses that hide her look are the emblem of her style, sober and minimal that gets translated into complicate looks, apparently similar, that mark her threadlike body. Valued testimonial by all the greatest brands, Victoria after launching successfully a jeans collection signed VB Rocks, became also a valued stylist by opening her personal maison, Victoria Beckham. Celebrated also by the great Anna Wintour, Victoria managed to conquer NY and to get a main position in the fashion system.
With love, Elena.
---
---