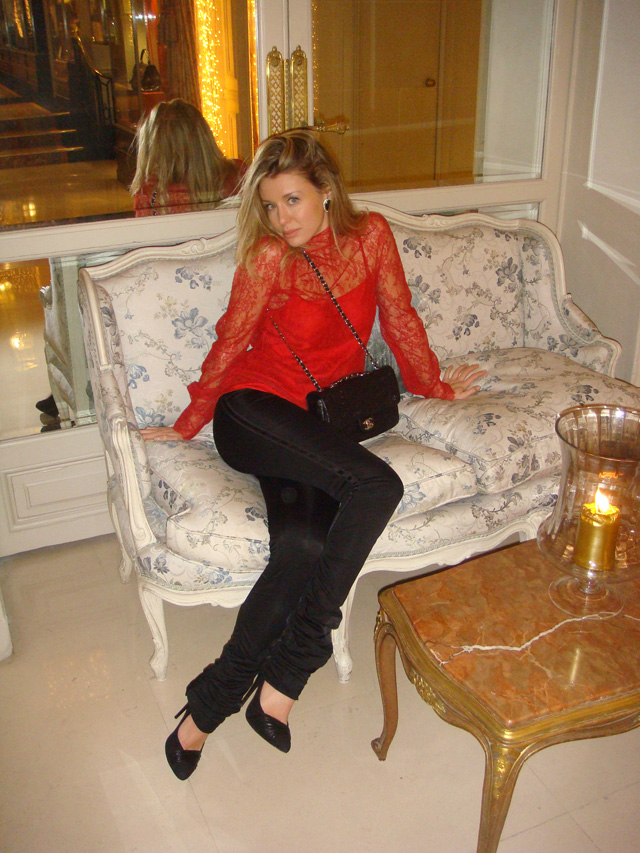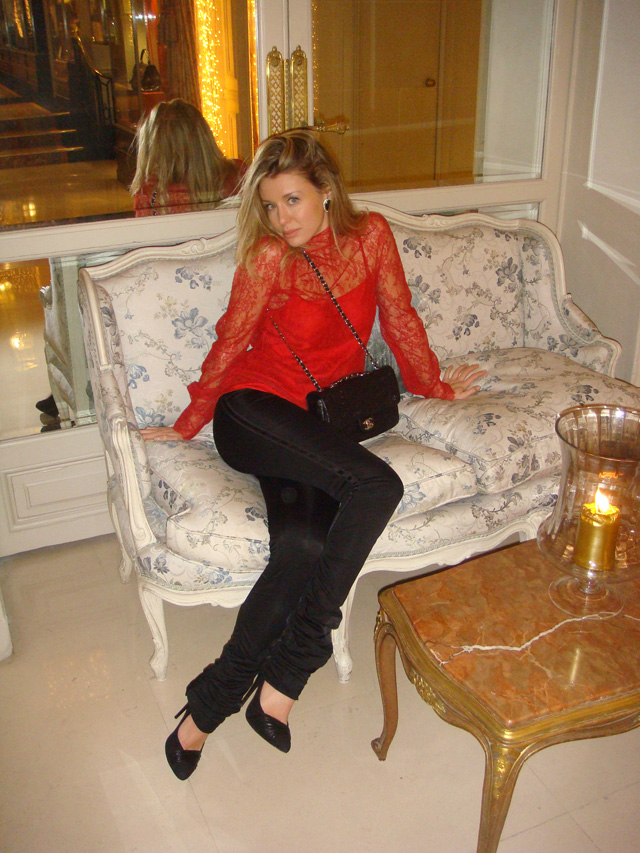 Dicembre 2011. Ore 8 del mattino, suona la sveglia.  Tra pochi giorni è il mio compleanno e il mio fidanzato ha deciso di regalarmi un viaggio di qualche giorno nella capitale mondiale della moda: la città che ha celebrato la fama di Poiret, Chanel , Yves Saint Laurent e ha "adottato" il nostrano Valentino assieme a tanti altri geni della  haute-couture.
Prendiamo un taxi e ci dirigiamo verso l'aeroporto di Milano Linate. Neanche il tempo di accorgermene, e dopo un veloce check in, un imbarco in orario perfetto ed un volo altrettanto veloce, siamo già arrivati nella Ville Lumiere. Dopo circa un'ora, eccoci in Place Vendome, ed eccolo lì, il mitico Ritz. Sono stati ospiti delle sue stanze nomi come Coco Chanel(per ben 30 anni e dove vi morì nel 1971), Elton John (che assieme a madame Coco ha una suite dedicata,di oltre 200 mq ), la principessa Diana(che ha trascorso proprio qui gli ultimi istanti della sua vita), Greta Garbo , Hemingway e tutte le grandi top degli anni '90.
Varcata la soglia dell'hotel più celebrato al mondo, sembra di fare un tuffo nei fasti della Belle Epoque : dal giardino d'inverno, alle scalinate di marmo coperte da meravigliosi tappeti, alla piscina riscaldata con spa annessa, alle stanze ancora in stile anni '20,la famosa galleria della boutique e poi il profumo di "buono e di Francia" in ogni angolo del suo edificio. In una parola: meraviglioso!
Ho avuto appena il tempo di guardarmi intorno, che si è fatta ora di cena. Mi devo preparare… Dove vado? Ve lo racconto un'altra volta…
THE SECRET "RITZ"
December 2011. 8 o'clock in the morning, the alarm rings, it's time to wake up. In a few days it's my birthday and my boyfriend decided to take me to the world capital of fashion: the city  that celebrated the fame of Poiret, Chanel, Yves Saint Laurent and has "adopted" our beloved Valentino along with numerous other great minds of haute-couture.
We take a taxi and head to the airport of Milan Linate. Without even realizing, and after a quick check in and boarding,  a smooth and perfectly on time flight,  we arrive in Paris. After about an hour, we arrive in Place Vendome at the legendary Ritz Hotel. The Ritz hosted great celebrities such as Coco Chanel (who lived and died there after 30 years in 1971), Elton John (who, as Madame Coco, has a dedicated suite of over 200 square meters), Princess Diana (who spent there the last few moments of her life), Greta Garbo, Hemingway and all the great top models of the '90s.
After entering the doors of the world's most celebrated hotel, it felt like being immerged in the Belle Epoque: from the winter garden, to the marble stair case covered with beautiful carpets, the heated swimming pool and relaxing spa, breathtaking rooms styled after the 20's, the famous gallery of boutiques, all of this accompanied by a magnificent aroma taking over every corner of the building. In a word: wonderful!
I barely had time to look around, that it's already dinner time. I Get ready … Where will I go? I will keep this story for another time…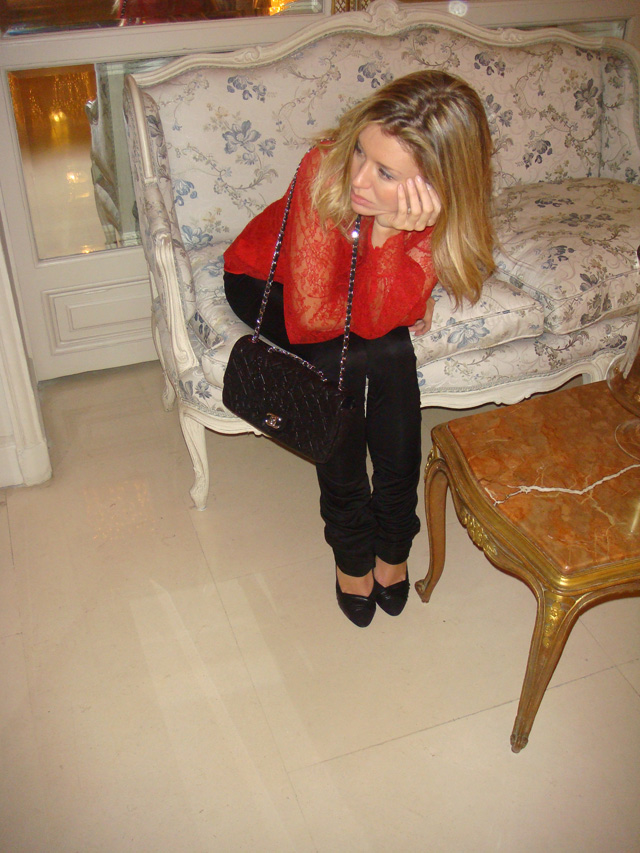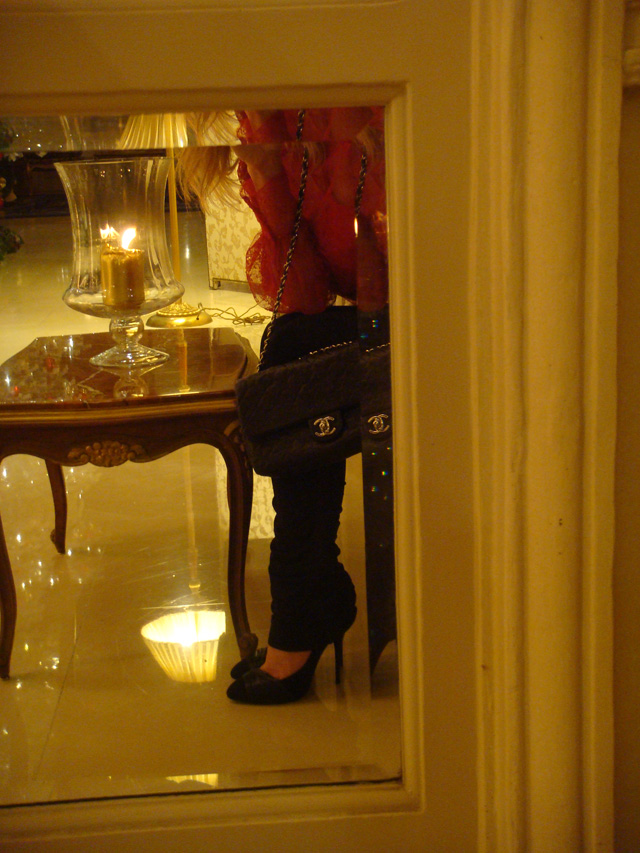 shirt: Valentino , pants: Gucci , shoes: Zanotti , bag: Chanel , earrings: vintage
---
---