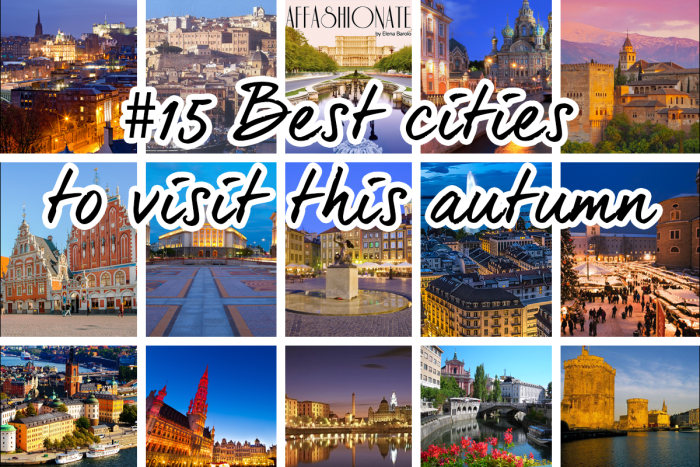 Novembre è un mese particolare, si vive quella fase in cui i ricordi dell'estate sono ancora vivi, ma gli amici iniziano ad interrogarsi su cosa fare a capodanno.
Questo periodo, spesso sottovalutato, è invece particolarmente adatto a chi ha voglia di fuggire qualche giorno dalla routine quotidiana.
Da Granada a San Pietroburgo, passando per Cagliari e Sofia, ho selezionato per voi quindici città(non di certo le più battute) adatte a chi ha voglia di esplorare il vecchio continente.
Ecco voi la mia personale classifica delle città più belle d'autunno, cosa ne pensate? Avete qualche proposta da suggerirmi?
November is a special month, in which we feel the summer memories stull alive, but with our friends we start wondering about what we're going to do for New Year's Eve.This period is often underrated, but it's actually a very nice time for those who want to get away for a few days from their daily routine. From Granada to St. Petersburg, Cagliari, Sofia and many more: I selected for you fifteen cities (and not the most famous ones) appropriate for those who want to explore the old country. Here's my personal rank of the most beautiful cities in the Fall days, what do you think? Any suggestion?
with love, Elena
---
---