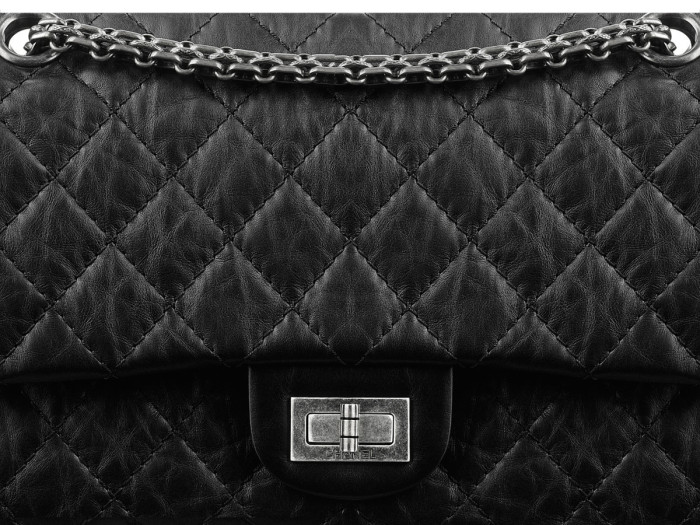 Iconica! E' questa la prima parola che mi viene in mente quando penso alla 2.55, la borsa concepita nel 1955 da Mademoiselle Chanel.
Dietro ad ogni leggenda si nascondono tante storie, ed io per onorarne i sessant'anni ho deciso di svelarvene qualcuno…
La 2.55 nasce dal desiderio di Chanel di avere una borsa da sera che le tenesse libere le mani.
Incurante del fatto che al tempo le borse a tracolla erano prerogativa di militari e postini, Chanel ideò un prototipo di borsa da sera, in seta o jersey, su cui al lato era cucita la catenina rivestita di un nastro che aveva la funzione di non irritare la delicata pelle delle signore (CC pensava a tutto).
L'immediato successo della borsa portò Chanel a creare la It-bag più desiderata dalle donne di tutto il globo.
Ispirandosi ai cuscini del suo appartamento in Rue Cambon a Parigi, la stilista ideò quei rombi trapuntati diventati un segno distintivo della borsa (sapevate che per cucirne il trapuntato sulla delicata pelle d'agnello è stata progettata una macchina da cucire apposita?)
L'interno della borsa, realizzato in pelle di vitello fu studiato nei minimi dettagli. La tasca separata con la chiusura nella parte superiore, chiamata Pocket-Value, fu ideata da Chanel così per celarne il contenuto quando la si apre. Quella anteriore è stata creata per portare i biglietti da visita, mentre il taschino interno nasce per nascondere i bigliettini privati (Mademoiselle CC aveva una vita amorosa impegnativa).
L'interno, pensato per il beauty, contiene tutto lo spazio necessario per le esigenze di noi donne.
La tasca sul retro della borsa, chiamata Poche-Sourir, è stata creata per risolvere l'antipatica situazione che si prova quando ci si ritrova a frugare all'interno di una borsa per trovare un biglietto all'ingresso di un cinema, di un teatro o di una mostra.
La 2,55 non è una semplice borsa, è un capolavoro di stile che richiede l'impegno di 15 persone che operano laboriosamente nei 180 passaggi di creazione di quella sessantennale emozione che si prova quando si apre scatola con all'interno la It bag.
Iconic! It's the only word that comes to my mind when I think about the 2.55, the bag  conceived by the genius of Mademoiselle Chanel in 1955.  Behind every legend there's plenty of stories and, to celebrate its 60th birthday, I decided to tell you some of them…
The 2.55 comes to life from Chanel's desire of a bag that allowed to keep her hands free. Unconcerned of the fact that the shoulder strap bags were a trait of army men and mailmen, Chanel designed a prototype of evening bag, made of silk or jersey, on the side of which was attached a small chain covered by some tape, which had the function of protecting the skin of ladies from irritations (CC didn't miss a thing!). The immediate success of this product brought Chanel to make the most desired it-bag by the women from all over the world. She drew inspiration from the pillows of her flat in Rue Cambon in Paris, that's how she conceived those famous quilted diamond shapes that would become the distinguishing feature of the bag (did you know that they had to build a dedicate sewing machine to sew the quilt on the lamb's leather?). The inner part, made of calf leather, was studied in every detail as well. The separate pocket with a latch, also called Pocket-Value, was invented by Chanel to keep its content hidden when the main pocket is open. The front pocket instead was made for keeping business cards, whilst the tiny inner pocket's function was to hide the secret messages (Mademoiselle CC had an intense love life). The inside, conceived for the beauty accessories, has enough room to store all the necessary for our womanly needs. The pocket on the backside, called Poche-Sourir, was meant to solve the problem of having to ransack the content of the bag every time we look for a  ticket before entering a cinema, a theater or an art-show. The 2,55, is not just a bag, is a masterpiece that requires the work of 15 people to be made, through 180 creation steps comes to life that sixty year old emotion that you feel when opening the box containing your bag.
With love, Elena
---
---