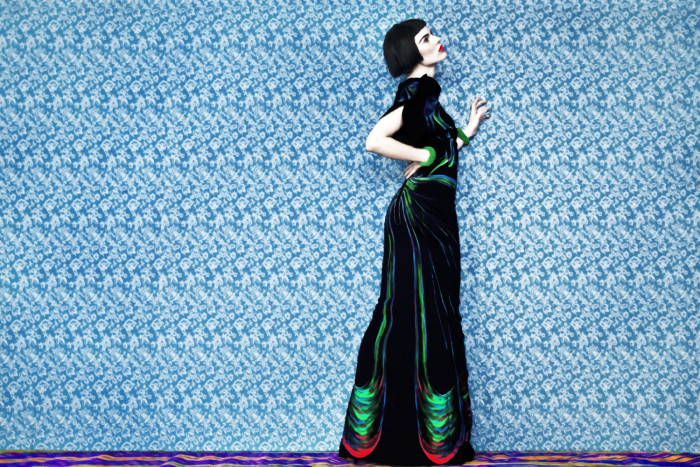 Etro è un'azienda italiana nata dal genio creativo di Gerolamo Etro.
Gimmo, così viene chiamato il signor Gerolamo nell'ambiente della moda, avvia nel 1968 la produzione di innovative e sofisticate stoffe, dipinte con intensi arancioni, gialli e fucsia, attraverso raffinate tecniche di stampa.
Ricerca, modernità e raffinatezza, è in queste tre parole che possiamo riassumere il successo di questo brand che, sul finire degli anni '80, è diventato un vero e proprio status symbol.
Oggi come ieri, la filosofia di Etro è portata avanti da Veronica, la figlia di Gimmo.
Scuola Saint Martin ed uno dei migliori giovani talenti italiani, Veronica è oggi direttrice creativa della maison di famiglia.
Ed è proprio lei che, nella perpetua danza di tradizione e innovazione fatta di texture movimentate, colori e fantasie orientali, è stata capace di modernizzare Etro fondendo il fascino mesopotamico del paisley con le culture ed sapori che si respirano solamente nella multietnica Londra.
Etro is an Italian company born from the creative genius of Gerolamo Etro.
Gimmo, this is how they call mr. Gerolamo in the fashion environment, started in 1968 the production of innovative and sophisticated fabrics, painted with intense tones of orange, yellow and fuchsia, through a refined printing process. Research, modernity and refinement, these three words resume the success of the brand that, in the late '80s, became a proper status symbol. Today like in the past, the Etro philosophy is conducted by Veronica, Gimmo's daughter. Formed in the Saint Martin school, Veronica, one of the best young Italian talents, is today creative director of her family's maison.  She's the one who's been able to modernize Etro, balancing in the continuous dance between tradition and innovation made of lively textures, colors and patterns from the far East, melting together the middle-eastern charm of the paisley with the cultures and flavors of the multicultural London.
with love, Elena
---
---