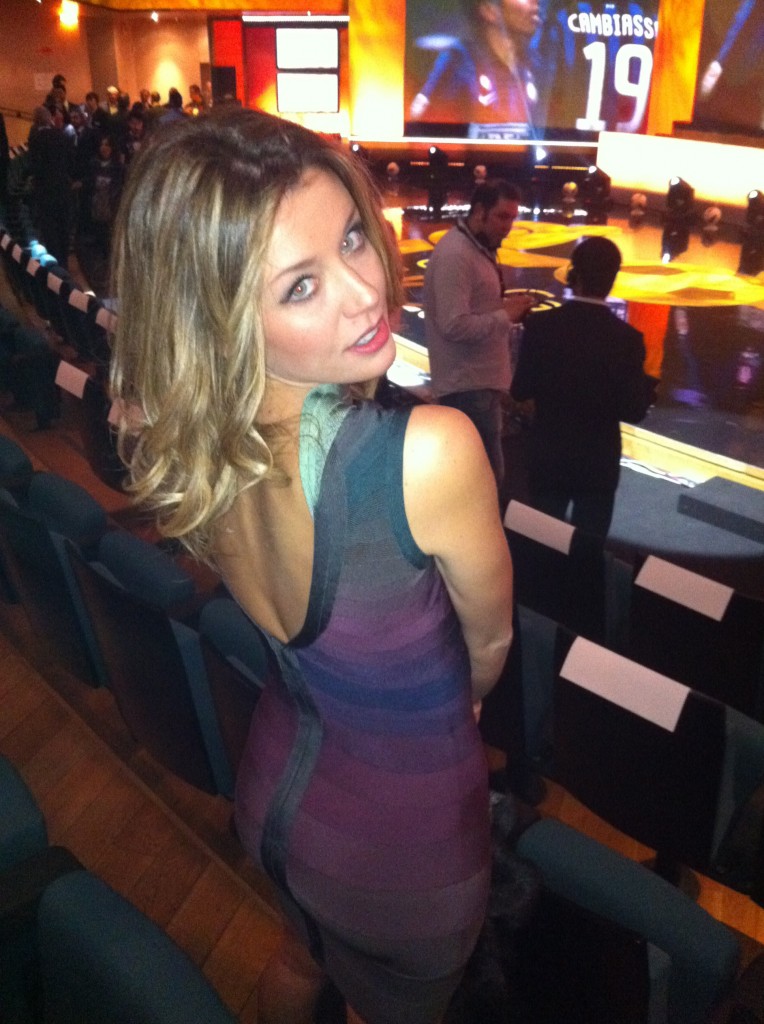 Eccomi qui sul treno, il solito Frecciarossa Roma-Milano, che ormai da un paio di anni prendo  almeno una volta la settimana, pronta a raccontarvi della serata di ieri: la prima edizione del Galà del calcio 2011 , tenutasi al teatro dal Verme di Milano.
Appena arrivata a teatro, sono stata fotografata sul tappeto rosso, dallo stuolo di "paparazzi" presenti all'evento(non per me ovviamente),ma per i grandi campioni del calcio che di lì a poco sarebbero arrivati.
Infatti, neanche il tempo di allontanarmi, ed eccoli lì che ,uno dopo l'altro , arrivano: chi in compagnia della bella moglie come Di Natale, chi del proprio procuratore come Cavani e Maggio, chi da solo come Boateng e il mitico Ibra.
Lo show ha inizio alle 21, e i presentatori fanno il loro ingresso sul palco. La parte femminile era affidata alla dolce Alessia Ventura, mia concittadina, in un bellissimo abito monospalla di paillettes dorate firmato Blumarine, che da solo illuminava l'intera platea. Ma non era l'unica "Ventura" in sala. Infatti sarebbe salita  sul palco, per la premiazione del migliore giocatore, anche la Simona nazionale, in uno stretto tubino gessato di Ferragamo.
Nel giro di un paio d'ore , i premi vengono assegnati. C'è chi ,come Cavani, deve scappare all'aeroporto di Linate dove lo aspetta un volo privato per Napoli, e chi , come i calciatori del Milan e dell'Inter, non hanno troppa fretta e si possono fermare per gli autografi e le foto di rito con i centinaia di fan presenti.
Io faccio ritorno a casa, un po' infreddolita nel mio mini abito Hervè Leger; ma si sa, chi "bella vuol apparire, deve anche un po' soffrire….".
Here I am on the train, the usual Frecciarossa Rome-Milan that since two years I take at least once a week, ready to tell you about last night: the first edition of the 2011 football's Gala, held at the Teatro dal Verme in Milan.
When I arrived at the theater, I was photographed on the red carpet by a crowd of "paparazzi", that were obviously not there for me, but for all the great champions of the Italian football league.
In fact, right after me, they arrived: who with his beautiful wife like Di Natale and Gattuso, who with his procurator like Cavani and Maggio, who arrived alone like Ibrahimovic and Boateng.
At 9 o'clock the show begins and presenters make their entrance on stage. The female part was entrusted to the sweet Alessia Ventura, my compatriot, in a beautiful one shoulder dress with gold sequins from Blumarine, which alone illuminated the entire theatre. But she was not the only "Ventura" in the theatre. In fact soon, the National Simona, went on the stage (to give the price to the best player of the past season) with her in a pinstripe tight dress by Ferragamo.
After a couple of hours, the prizes were given to the soccer players, and some of them, like Cavani, had to leave in advance to grab the private planes that were waiting for them at Linate's airport, others, especially those of AC Milan and F.C. Internazionale Milano, were not in a hurry and therefore stopped there to sign autographs and takes photos with the hundreds of fans waiting outside.
I returned home, a little bit frozen in my Herve Leger mini dress, but you know in Italy we say that "who wants to look beautiful, it also has a to suffer a little ….".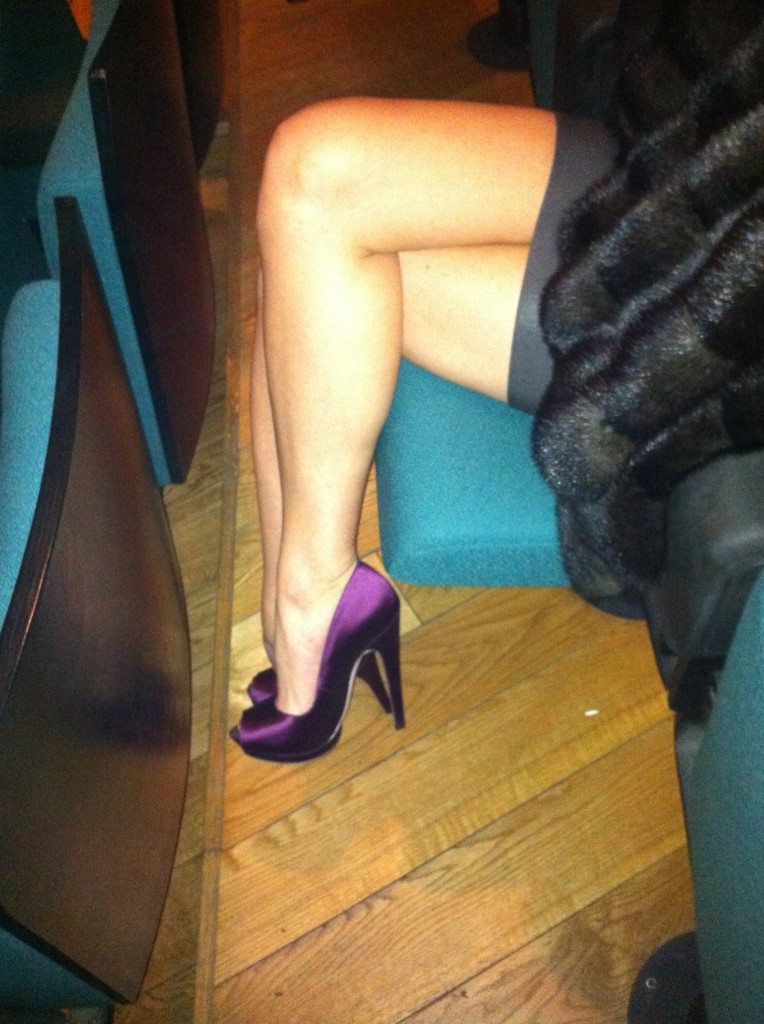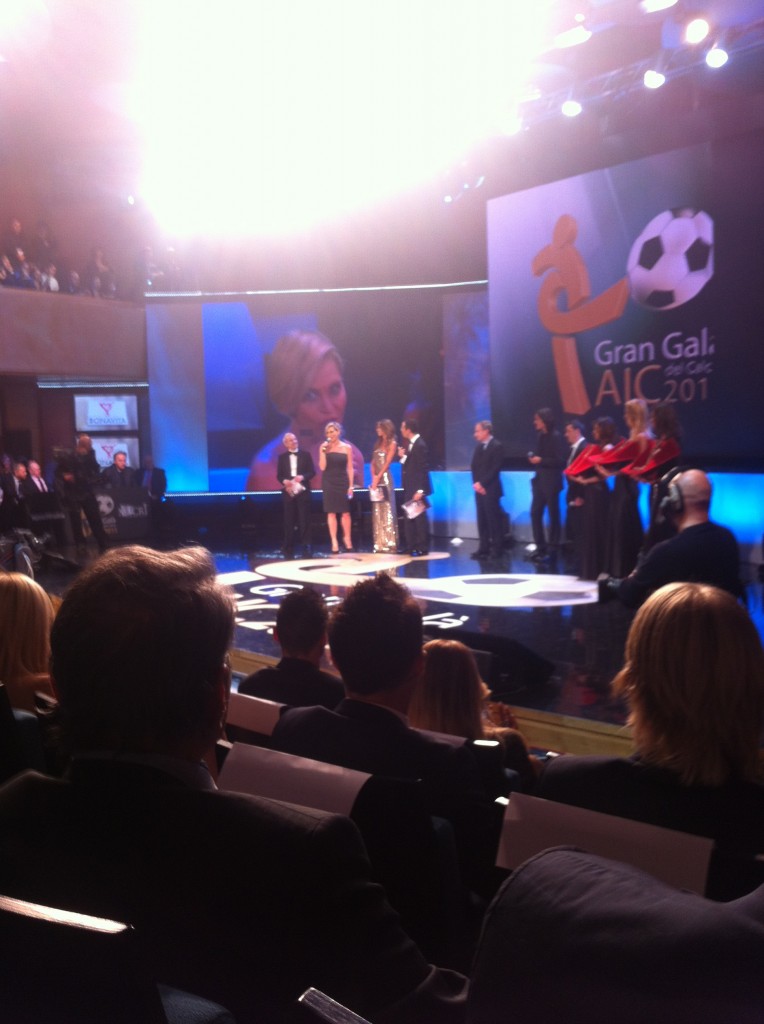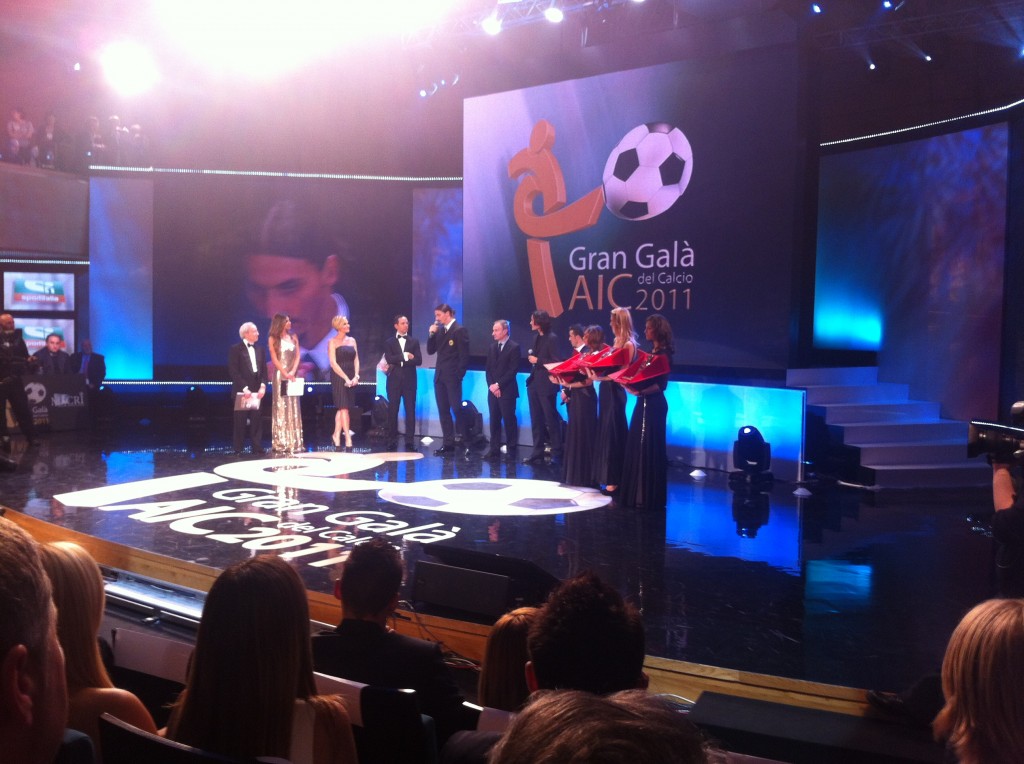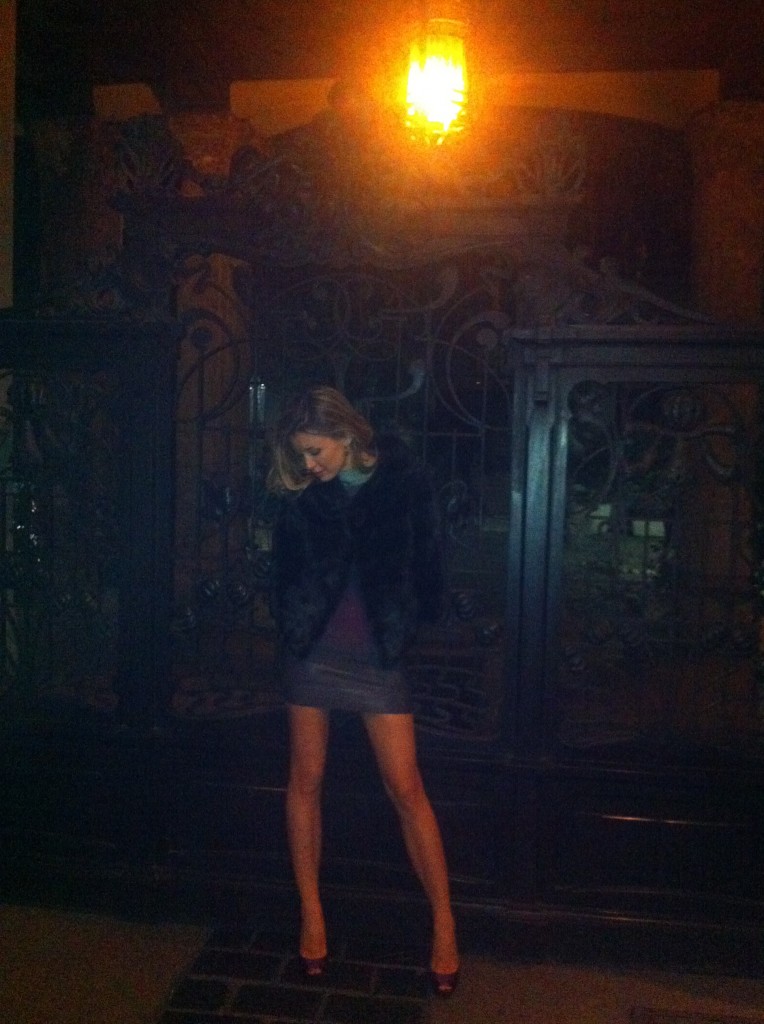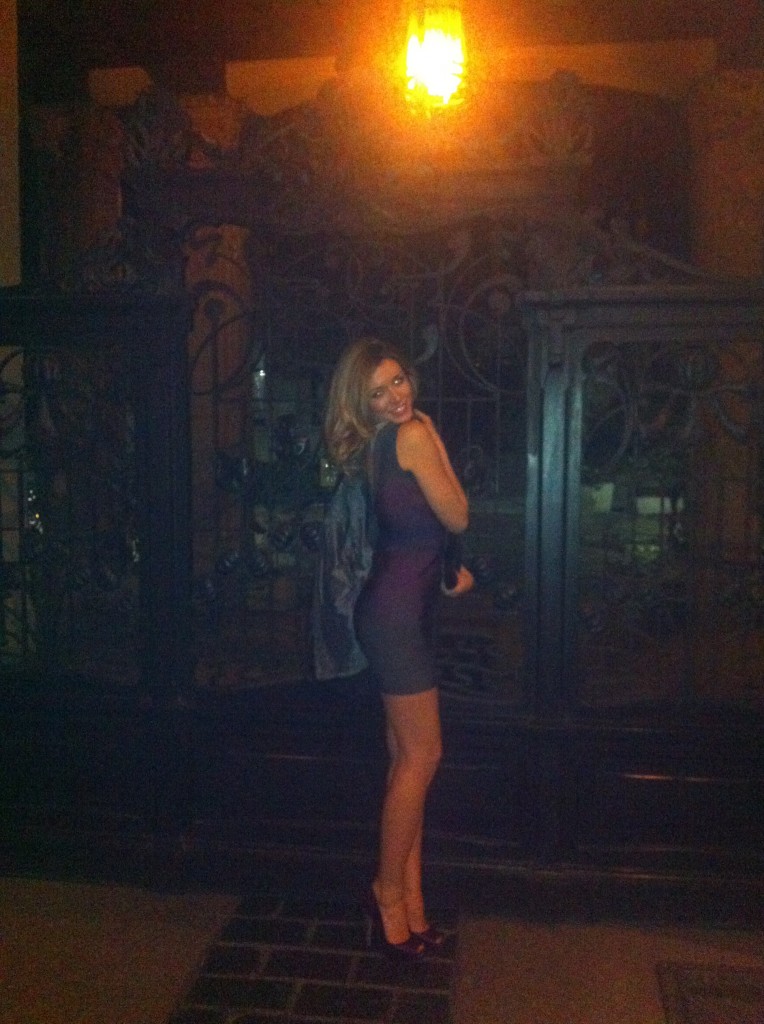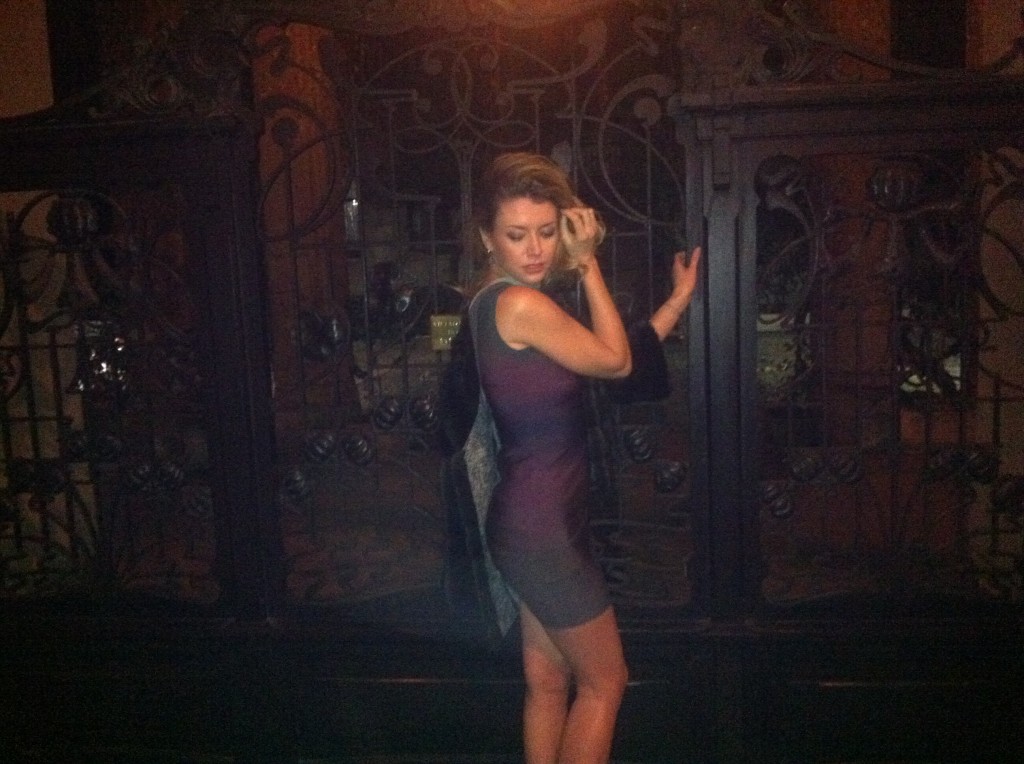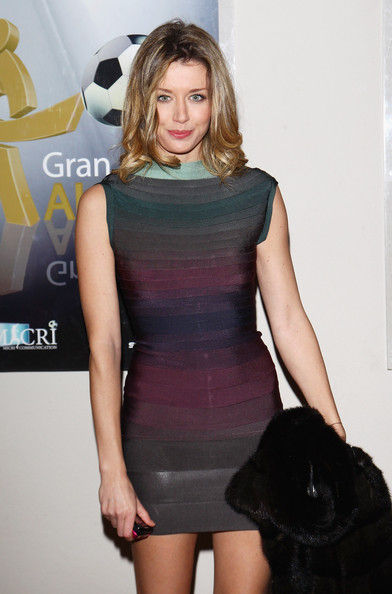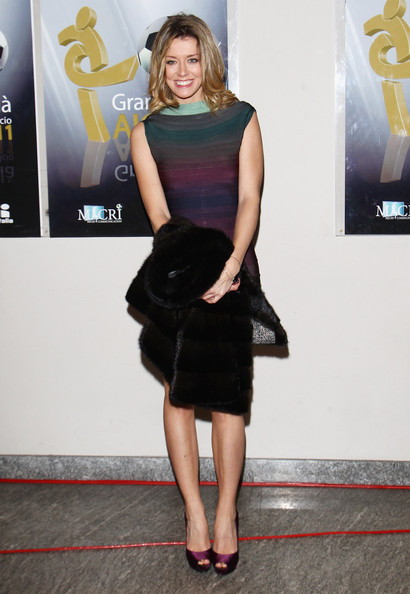 dress: Herve Legér , shoes: Ferragamo , fur jacket: Violanti
---
---